Expo of Jamaica's beauties still stirring comments
A week later comments on the expo titled 'Be Swept Away by Jamaica's beauties' are still being offered, mostly on Facebook, by persons who were positively affected by the event. comments are also being made by persons who did not attend, but are able to see the photos on Facebook.
Repeat visitor to the resort describes what he sees on facebook as "Amazing and outstanding". Roxann Vanecek Yarges says the expo was an inspiration.
The event was from December 6-12.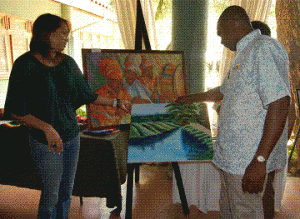 Opening Monday, December 6, in the hotel
Author Profile
... refers to representatives of entities such as embassies, entertainment industry, creative force whose submitted work gets published on this site. Views expressed here may not necessarily represent those of the owner of this site, but are being published in the interest of the wider public. Link me here