A fantastic evening it was on June 15 with several artists – performing, visual and literary and the Diaspora networked through the OAaSIS International Foundation, to pay tribute to artist Christopher Gonzalez.
Boom Steppa, Rollie Fresh, Reiko Nagase, Jermaine Gordon, Dwayne Hamilton, Bernard Hoyes were the compliment of the evening joining the Gonzalez family in paying tribute. The tribute was in the form of a creative workshop series, which as a result of a late start was done seminar style.
At least 14 Diaspora members and selected business persons from the area of St Ann joined principals and art teachers from that area to witness and enjoy the proceedings. Among the group were hotelier Jag Mehta, and Andy Jefferson, also respected artists for their visual expressions.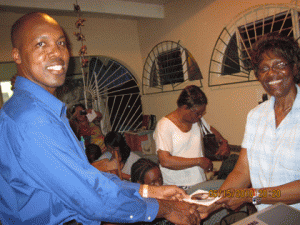 The evening
Author Profile
... refers to representatives of entities such as embassies, entertainment industry, creative force whose submitted work gets published on this site. Views expressed here may not necessarily represent those of the owner of this site, but are being published in the interest of the wider public. Link me here