Just in case you forgot, the OAaSIS International Foundation needs YOUR help to make the dreams of many Jamaicans come through, and yes strengthening the tools to make Jamaica advance as a nation and in the human race. Youth also learn to apply creativity in all other areas they explore from business to.. ahh well just about all areas.
The Foundation empowers youth, sensitising them through the arts. The Arts are a critical tool in development and advancement of any people. Just think what the world would be like if no one was able to read, nor write, sing, dance, draw.
Aside from placing proper focus on the arts, youth all over are shown how to discover, hone and improve their skills and talents. They learn of the many careers existing from painting, architecture, stage and theatre production to being a chef.. all creative works.
The Foundation also has an ongoing club Pickney International Creative Youth Club establishing ongoing relationships with visited areas and to enable individuals to continue discovering and improving their skills. The arts are after all vital in understanding numeracy, literacy and even the sciences.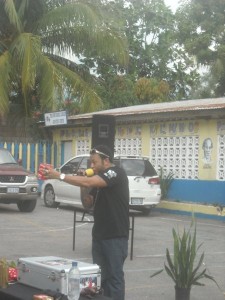 CURRENT PROJECTS of the FOUNDATION include:
ART EXHIBITION:
In December the artists of OAaSIS will show artworks right till December 22 at Swept Away. Please see our catalogue and order.
CREATIVE WORKSHOP SERIES:
We host workshops, seminars, project and motivation sessions for youth, and we need funds as the list is growing. We will resume in November when we have received the books from Patrick Beckford and set the library on its way. Read more about the launch. See Farenheit in action.
PICKNEY INTERNATIONAL CREATIVE YOUTH CLUB:
Please sponsor a child's membership of J$2500(button, activity sheets etc) CYC is in follow up to the creative workshop series.
RIGHT NOW the girls and boys BOYS TOWN would love sponsorship to get this club there. We'd love to sponsor 200 from Boy's Town.
Read more on how to join up.
LIBRARY/ART DEPARTMENT:
Give books to Patrick Beckford, if you are in USA, who intends to send off the books by October's end for library at Seargeantville, St Catherine. We need books, paintbrushes, paint, tiles for the building, shelves for the walls, bookcases. Read more
ARTS CAREER ONLINE LIBRARY:
Read more on Arts career online library
FINANCIAL DONATION$:
You can make purchase or donations through our bank account
Proceeds will assist in defraying costs.
NCB account number #: 064666886
COIN DRIVE:
Please donate coins in our pans across Jamaica. See more!
WEBSITE:
We do have to pay to create, maintain, update the website as we strive to catalalogue and detail everything with transparency. Otherwise, how would you know what you are supporting. Please assist with financial contributions.
ADVERTISE:
Each donation merits even a mention, but you can place an advertisement on our site… starting at 10,000 Jamaican dollars. Thanks.
Interesting links.. just pick, peek, participate..pleasure to treasure.
INTERVIEW ON HOT 102FM radio – do enjoy interview with Hot 102 FM radio with photos:
Part One: part Hot 102fm features OAaSIS
Part Two: Hot 102fm features OAaSIS
Part Three: HOT 102fm features OAaSIS
QUICK FACTS
Patrons are Barrington Watson, Farenheit, Bernard Hoyes
Overseas partners/ representatives are Bill and Kris King (Canada); Michael Conally (UK); Diaspora, Patrick Beckford (USA); Aneita Cunningham (USA)
GENERAL MATERIALS NEEDED include:
sketch paper, paint, acrylic paint, oil paint, pastel crayons, charcoal, exercise books
See more on OAaSIS International Foundation's website.
First published October 10, 2010.
Author Profile
... qualified & experienced in journalism, creative writing, editing, the arts, art critique, paralegal, photography, teaching, research, event planning, motivational speaking, workshops for children and adults, visual arts etc. Click here for contact form. ...or email me here