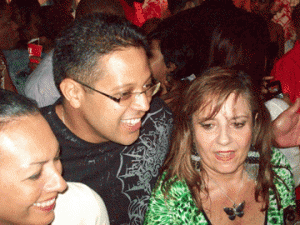 The Invitational Smirnoff tent at the jazz and blues festival 2010 on the ending nights from January 28-30 in Trelawny was a total break from the norm of the expected Jazz fest dubbed "Art of Music". It introduced a new stroke of Jamaica culture, to the entire week, painted in by an elite, but vibrant and energetic team who knows just how to jazz up events with their "Spirits of Jazz", as the tent was called.

PLEASE: Click here to learn how to get a similar album of your images. An entire year's worth for under $50 dollars
Hardly any patrons could resist the entrance's eye grabber with its multilevel display, outside lounge area with a welcoming party of the most attractive ladies.
On entering the tent the excitement hits you straight in the face, stirring within you the good vibe. Quite a large number of youngsters and young at heart flooded into the Smirnoff tent any chance they got. Why not? The excitement was perfect, the drinks did not stop flowing, the musical energy kept it pace all night.
The headline shocker was the number of persons being lured from the other tents to meet up at the Smirnoff exclusive tent. The Smirnoff tent created a memorable experience and satisfied many a dancing addiction. The music was supplied by DJ Nicco and he never let up once. He played from pop, dancehall and mostly reggae. The popular 'Holiday' by Dingo never failed at get everybody showing true colours of themselves, no matter where the selector inserted it. The tent was the place to learn the greatest and latest Jamaican dance steps.
The d
Author Profile
You may see me around in Kingston from time to time, fewer times on the North Coast. Humans, especially my fellow Jamaicans fascinate me. I plan events such as parties, and as a producer I am the man behind VOICE entertainers. I am on this site because from my involvement I contribute articles, photographs and videos. All to assist in making others especially internationally more aware of our uniqueness as Jamaicans. Link me here