Andrea Dempster realises dream all 'for the love of books'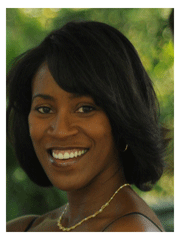 For the love of books, Andrea Dempster launched into the literature realm in 2007 and opened her bookstore, "Bookophilia" with a difference in 2008. 'Philia" meaning love in the Greek language attached to the word "Book", personalises the name of the bookstore located on Hope Road.
Born Andrea Samantha Dempster in Glasgow, Scotland to a Trinidadian mother and Jamaican father, Andrea was fortunate to be exposed to life in Scotland, Jamaica and the United States of America where she lived, studied and worked.
Dempster attained a Bachelors of Civil and Environmental Engineering while living in USA. During this time, she won the Georgia Tech Alumni Study-Abroad scholarship and chose to study French Business and Economic language at the Universite de Toulon in the south of France. She later earned a Masters in Structural Engineering from the University of Illinois at Urbana-Champaign, the top graduate school in her field, and contributed to academic papers on Seismic Engineering.
She worked as an Engineer in the US for many years; from summer jobs working with HUD Homes, the federal government housing programme; to, being Design Engineer on several projects in Miami and Jacksonville. She attained her professional engineering (PE) license and was appointed the Structural Project Manager for a $650 Million USD project
Author Profile
I am a graduate of the Social Studies Faculty of the University of the West Indies (Political Science Major with knowledge in International Relations Studies). I am in love with my country and its people, and as a member of the creative industry, I believe in the skills of Caribbean nationals. Aside from contributing my writings to this site, I plan events especially entertainment, arts and culture related. I also do event promotions and media relations.
Link me here
Latest entries