Hand painted wall designs/art in Jamaica
So your wall needs jazzing up and you are tired of changing the colour. Why not jazz it up with some designs. Flowers, scenery or abstract designs. WHY not wall papers – hand paintings give a pristine more permanent and elegant finish, plus ITS UNIQUE.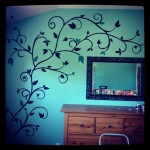 Hundreds of Jamaicans are skilled to transfer your wall to create your space into a warm comfortable mood room.
Author Profile
... qualified & experienced in journalism, creative writing, editing, the arts, art critique, paralegal, photography, teaching, research, event planning, motivational speaking, workshops for children and adults, visual arts etc. Click here for contact form. ...or email me here