It's the start of a brand new year. 1/1/11 bears significance for varied reasons to everyone! On this site there are new opportunities to beautify your world, as well as learn so much about the arts, creativity and culture of Jamaicans.
The team of write lovers brings features on the arts trough this media website.
PAINTINGS, ART PATCH, GIFTS
Anthea McGibbon showcases her paintings of fine arts and art for commercial purposes (original and print). Her works are ideal for walls, and has been used to furnish homes and office space. (See below for the varied series and links to more catalogues)
CATEGORIES OF FINE ART
WEBSITE OF FINE ART PAINTINGS by Anthea McGibbon
Artwork is done on canvas, hardboard or watercolour paper. Sizes range from 4×6 inches and go beyond 40 feet.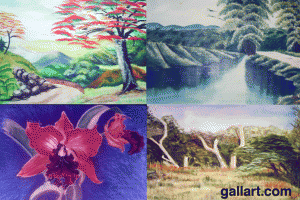 Fertility/Loving series — acrylic, oil, pastels
Orchidaroma series – abstract, realistic, pastels, oils, acrylics (Offering a wide array of orchids painted as Orchidaroma series, she also paints gladiolas.)
Riverscapes – oil and acrylic
Landscapes – oil, pastel, acrylic
She paints landscapes that reflect Jamaican scenes
Waterscapes — oil, pastel, acrylic
Abstract –
Prices of original fine arts works in oil, pastels or acrylic are from US$150.
PHOTOGRAPHY
Anthea
Author Profile
... qualified & experienced in journalism, creative writing, editing, the arts, art critique, paralegal, photography, teaching, research, event planning, motivational speaking, workshops for children and adults, visual arts etc. Click here for contact form. ...or email me here