Indeed the world celebrates Miss Lou Day today.
How many persons are mindful that had it not been for her, chief among others, Jamaicans would not be caught dead 'chatting patois'.
Here's a poem I'll always remember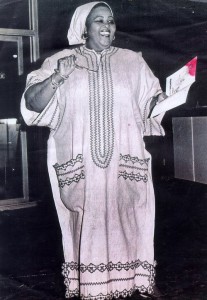 NOH EVEN LICKLE TWANG!(NOT EVEN A LITTLE ACCENT)
——————————————————————————-
Me glad fe se's you come back bwoy,But lawd yuh let me dung,
Me shame o' yuh soh till all o' Me proudness drop a grung.
Yuh mean yuh goh dah 'Merica
An spen six whole mont' deh, An come back not a piece bettaDan how yuh did goh wey?
Bwoy yuh noh shame? Is soh you come?
Afta yuh tan soh lang!
Not even lickle language bwoy?
Not even little twang?
An yuh sista wat work ongle
One week wid 'Merican
She talk so nice now dat we have
De jooce fe undastan?
Bwoy yuh couldn' improve yuhself!
An yuh get soh much pay?
Yuh spen six mont' a foreign, an
Come back ugly same way?
Not even a drapes trouziz? or
A pass de rydim coat?
Bwoy not even a gole teet or
A gole chain roun yuh t'roat.
Suppose me las' rne pass go introjooce
Yuh to a strangaAs me lamented son wat lately
Come from 'Merica!
Dem hooda laugh afta me, bwoy
Me could'n tell dem soh!
Dem hooda sey me lie, yuh was
A-spen time back a Mocho.
Noh back-ansa me bwoy,
yuh talk Too bad; shet up yuh mout,
Ah doan know how yuh an yuh puppa
Gwine to meck it out.
Ef yuh want please him meck him tink
Yuh bring back someting new.
Yuh always call him "Pa"
dis evenin'
Wen him come sey "Poo".
-Miss Lou
Did you figure it out? Can you translate it? Did you get the lessons from the poem written in patois or the 'jamaican dialect'?
At the time of creation, Miss Lou spoke of a recent repatriate Jamaican who had returned from the United States without a a minute sign of even a little "twang" (accent in Jamaican dialect)!
Of course in those days, this was highly unusual and unforgivable. Today, you may not need to impress with an accent, but its just unfirgiveable for any one to return from America even after a brief visit 'empty handed' – no gifts, much less no signs of success from the 'greener grass on the other side'.
Author Profile
... qualified & experienced in journalism, creative writing, editing, the arts, art critique, paralegal, photography, teaching, research, event planning, motivational speaking, workshops for children and adults, visual arts etc. Click here for contact form. ...or email me here