On October 20, 1969, seven years after Jamaica gained Independence, National Heroes Day was established, and it was declared that the third Monday in October of each year would be celebrated as National Heroes Day.
The Order of National Hero, which is the highest order that can be conferred on an individual by Jamaica, is reserved for noble men and women who have served Jamaica in a most distinguished way.
Indeed, the legacies of our only National Heroine and our six National Heroes are deserving of such recognition, for their outstanding courage, sacrifice and service provided us with an inspirational foundation on which we can face and overcome the challenges of today and the future.
It was the Right Excellent Nanny of the Maroons who led the fight against the British during the First Maroon War from 1720 to 1739, and freed hundreds of slaves who settled in the various Maroon Communities, some of which still exist today.
It was the Right Excellent Samuel Daddy Sharpe, Leader of the Burchell Baptist Church in Montego Bay, who led the Christmas Rebellion of 1831 which was instrumental in bringing about the abolition of slavery, not just in Jamaica but across the British Empire. His immortal words, "I would rather die upon yonder gallows than live in slavery" are a call to action for all Jamaicans to stand up for principle and speak out against injustice in our society.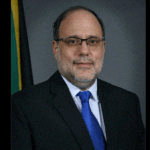 It was the Right Excellent Paul Bogle who marched over 50 miles from Stony Gut to Spanish Town in pursuit of social and economic justice for the people, and led the Morant Bay Uprising of 1865, ultimately being martyred for his leadership in that struggle.
And it was the Right Excellent George William Gordon who worked with Paul Bogle to give people living under oppressive conditions the opportunity to voice their concerns and organise for change. He too was martyred for standing up for justice in our land.
It was the Right Excellent Marcus Mosiah Garvey, the great Black Nationalist and Pan Africanist, who formed the Universal Negro Improvement Association the (UNIA) in Jamaica in 1914 and successfully built it into a international organization. His philosophy of self-belief, self-reliance and unity among Africans at home and abroad raised consciousness, inspired other leaders who came after him, and remain relevant to this day.
It was the Right Excellent Alexander Bustamante who championed the cause of the working class in the 1930's and emerged as the leader of the workers of Jamaica out of the 1938 labour uprising, becoming the first Prime Minister of independent Jamaica in 1962.
And it was the Right Excellent Norman Washington Manley who engineered the systemic changes which came out of the 1938 labour uprising, and led the struggle to give every adult Jamaican the right to vote regardless of race, gender, social or economic status (which was achieved in 1944), and led the struggle for political independence for Jamaica (which was achieved in 1962).
Our National Heroes are indeed a source of inspiration for us all. They embody the noble qualities of selflessness, courage, wisdom and determination.
And Today we honour them for making it possible for us to live in a free and democratic society.
And Today, we acknowledge and revere their immense and lasting contributions to the independence and development of modern Jamaica.
We draw on their strength and determination so that we, too, will stand up for justice and demand the very best of our leaders.
This National Heroes Day, let us also acknowledge our everyday heroes, who keep the fabric of our society together.
Our parents, who face the daily challenges of providing for their families, and do so with pride and dignity.
Our teachers, who work in such challenging circumstances to prepare our children to achieve their hopes and dreams in the future.
Our doctors and nurses, who work in adverse conditions to care for the sick and bring them back to health.
Our police, soldiers, and fire fighters who face dangers to their own lives to enforce the law and to keep us safe.
Our civil servants, who live a life of service to our great nation.
Our farmers, our business people, who grow our food and provide the goods and services we rely on.
Our youth, who represent hope for the future and the resilience of our people.
And Let us salute those among us who, over the past year, demonstrated heroic acts worthy of recognition. These include:
Clayvian Williams and other good samaritans who helped to rescue Berris and Shannon Walters from the floodwaters in Montego Bay
Zina Slew and her sister who rescued a man trapped in his submerged vehicle in the Rio Cobre in Bog Walk Gorge
And Danieto Ferguson, who braved a burning house to rescue 13-year-old Adrianna Laing from the horrific fire that claimed the lives of her siblings
And of course The many others who carry out such acts of heroism that make a world of difference to our lives.
The amazing courage displayed by these great Jamaicans shows that faith as small as a mustard seed can really move mountains.
So My fellow Jamaicans, let these acts of heroism inspire us with the courage and determination to solve the deep problems facing our Nation. Working together as One People, let us build the Jamaican dream of a just and loving society that provides opportunities for a good quality of life for all our people; the dream that our National Heroes fought for.
Happy Heroes Day! God bless Jamaica, Land we Love!
– Mark J. Golding, MP, Leader of the Opposition
LOOK OUT for Thoughts by Anthea McGibbon, Do-It-yourself tips and more !
————————————————-
FOR COVERAGE, REVIEWS:
Please submit press releases, invitations and anything else for consideration 3-5 clear days before anticipated date of publication or event for review.
————————————————
– Anthea McGibbon, Site owner
Author Profile
... qualified & experienced in journalism, creative writing, editing, the arts, art critique, paralegal, photography, teaching, research, event planning, motivational speaking, workshops for children and adults, visual arts etc. Click here for contact form. ...or email me here