For Jamaicans living away from home, there is now a team of legal leg workers to take care of their minor errands back home on the island. Led by journalist Anthea McGibbon, the team offers legal process and private investigative services to professionals locally and internationally. She herself has paralegal training and experience, making her qualified to perform some tasks.
Tasks that are beyond her call are passed on to relevant members of the team.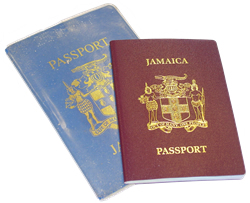 Catering to professionals such as Attorneys, Title Agencies, Realtors, Medical Facilities, Banks, Corporate Jamaica and members of the General Public, the team works to deliver, process or complete projects quickly and efficiently for those short on time or staff. The team aims to assist the general public especially those living abroad in resolving their problems.
Anthea McGibbon is a well-rounded and multi-skilled journalist and artist, which she believes are both complimentary to the legal world, and fit for a wide variety of clients. Also with paralegal training, her own media website www.antheamcgibbon.com highlights arts, culture, creativity, law and spirituality which in her experience are interlocked in the fabric of life.
She says the team in no way replaces an attorney or any other specialist, but rather compliments and assists in speedier processing.
SERVICES include:
ghost writing
draft and file documents
draft and serve notice to quit premises
prepare summons and service
minimum private investigations
correspond with clients, counsel, and others on factual matters
act with power of attorney
note taking at a trial
assisting to make bail arrangements
research facts
affidavit
media and pr relations
photographs as evidence
documents preparation/drafting
filing of documents
prepare patent and/or trademark status summary reports
process serving
source experts as needed
project management
general legal legwork
general leg work
etc.,
The time has come for Jamaicans to unite in assisting in solutions to challenges faced by Jamaicans on a whole. The Court system is one place to start as with more persons having a better understanding and grassroot assistance, challenges such as mistrust of attorneys-at-law and backlog can be drastically reduced according to Anthea McGibbon.
USEFUL LINKS:

http://www.jamaicans.com/news/announcements/jamaicans-abroad-get-help-with-errands-back-home.shtml
Author Profile
... a team of professional experts, mostly Jamaicans, from varied fields including as priority paralegal, investigation, research, real estate, construction, arts (literary, visual, performing, culinary) and entertainment, certified Attorneys (civil and criminal law). Information is researched, then published, on this site, in the interest of the wider public.
Link me here
***
Click here for more about us