The organisers of the Jamaica Jazz and Blues Festival which kicked off January 24 and runs to the 26th are committed to a stellar lineup, Grammy style for the Art of Music fest.
The event is happening at the Trelawny Multi Purpose Stadium.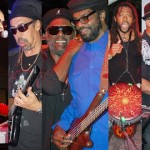 The truley first class experience has multi-Grammy award winning singer and songwriter Michael Bolton who has sold more than 53 million albums and singles worldwide.
Among the perennial Jamaican favourites are Said I love You But I lied, How Am I Supposed To Live Without You and When A Man Loves a Woman.
Mary J Blige having copped nine Grammy awards, plus 29 Grammy nominations brings to the Trelawny Stage hits such as No More Drama, With Each Tear, and Family Affair. She is also popular for gospel hits.
Dionne Warrick, who has her own niche in Jamaica's heart will soothe and tantalise with hits such as Promises, Message to Michael and A House Is Not a Home. Owning a career of 48 years she's bound to be a hit with her original Don't Make Me Over.
John Legend listed among Times Magazine 100 most influential persons is sure to work his Ordinary People along with other hits like Everybody Knows into many patrons hearts. R&B crooner Monica, the multi-platinum Grammy Award winner who returned from a 4-year hiatus in 2010 with her album Still Standing will still be claiming You Should Have Known Better. Anxious fans await the Brandy combo The Boy Is Mine.
By no means least Jamaican band Third World now celebrating 40 years and owning 10 Grammy nominations will thrill again with Now that Weve Found Love among other hits.
Author Profile
... qualified & experienced in journalism, creative writing, editing, the arts, art critique, paralegal, photography, teaching, research, event planning, motivational speaking, workshops for children and adults, visual arts etc. Click here for contact form. ...or email me here