As near and dear as health and food are to Gramps' heart, watching his son on the path of teen stardom is his greatest pride. Just over a year ago, when they launched the career of Gramps' now 17 year old son, Jemere Morgan, the Dada Son Entertainment label proved that the fruit doesn't fall far from the tree.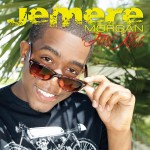 "According to the tween-teen girls, my son is a teen darling. Thanks to Team Jemere he's becoming an underground phenomenon among Reggae lovers, particularly for Caribbean parents who are thrilled to have a positive young black man their children can look up to. Jemere is their Beiber," says Gramps who plays the major role in mentoring and grooming Jemere's brand and music.
Jemere Morgan's debut single First Kiss garnered airplay on major radio stations in Jamaica including Irie Fm and ZipFM, as did his follow up single Sunshine Glow whose accompanying video peeked at #1 on Tempo's Cross Caribbean Countdown. Meanwhile, his single International Love has joined Sunshine Glow on SiriusXM Radio's The Joint's playlist. International Love also hit #1 in the UK this week on the Karma Reggae Show. Further, the single also charted on both Italy's Under Pressure and Da Flava Radio's NMT Top10 in Atlanta where Jemere's track Bounce is currently charting at #5 on the NMT Dancehall chart.
His next single, She's Gone, was produced by Stanley "Rellee" Hayden, one half of Pop music's renowned production duo, The A-Team. A joint venture between Dada Son Entertainment, VPal – a subsidiary of VP Records, and A-Team Music, She's Gone is expected to be released at the end of this quarter. Jemere's debut album, High School Graduation is slated for release on Dada Son in the first quarter of 2013.
As Jemere Morgan's popularity amongst the Caribbean's youth steadily expands to new regions including Oceania, it is clear that a new star is on the rise.
http://jemeremorgan.com
Tweets by iamjemere
Author Profile
... qualified & experienced in journalism, creative writing, editing, the arts, art critique, paralegal, photography, teaching, research, event planning, motivational speaking, workshops for children and adults, visual arts etc. Click here for contact form. ...or email me here