Song Title: Never Gonna
REVIEWED BY: Anthea McGibbon
ARTISTE: Junior Culture
Junior Culture is about to heat up the world, with his music wave 'Never Gonna', a profound interpretation of Rick Astley's 'Never Gonna Give You Up'. However, Culture's reggae and dancehall mix version is a deepened culture of love being encouraged and disseminated worldwide. Released a month ago in Jamaica, 'Never Gonna' is a spread of the Jamaican Culture of passionate bonds.
'Never Gonna' is projected as Culture's most powerful song yet, and its clear he does better with love songs rendered passionately from the heart.
'Never Gonna' is one way to heal the world of relationships, with it's sensual reiteration of commitment to a bond. It's rendered in Jamaican Patois but for the most part this interpretation of solid love – Jamaican style – is clear to understand.
Culture uses his natural suave in the video 'Never Gonna', to showcase this solid love between a couple, and it's easy for anyone to relate. The original version by Rick Astley, was more of a playful nature, with an equally catchy rhythm. While Astley's original keeps you dancing, Culture's 'Never Gonna' brings listeners to a romantic setting and even sexual intimacy of mind and body. So the song is set to be a lover's anthem, especially after you get it about the patois lyrics.
JUNIOR CULTURE'S NEVER GONNA
'Never Gonna' is an epitomy of ideal love. In the song's verses, Culture releases admiration for the loyalty of his partner who has stuck by him through highs and lows. The chorus is themed with his commitment to "never gonna make you cry".
With lyrics like "She (Angela) nah go do Acapella" Culture commits to being the music for her tunes, and boasts when "she tell di rich man fih gwaan, a Culture alone, can plough her farm." Angela, of course being the name he chooses to represent the object of affection.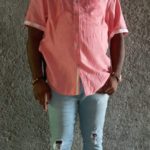 The song is worked out with a 'reggaerisation' of the chorus from 'Never Gonna Give You Up' at the opening, middle and end, bridging two solid and meaningful verses.
One will be sure to hit replay in one's mind after watching the actual video, a romantic conversation by the sea, a popular choice for sexual mediations.
NEVER GONNA COMPLIMENTS
'Never Gonna' compliments Rick Astley's Never Gonna Give You Up very well in lyrics and rhythm, adapted by Love Line Riddims. It was recorded at Small World, by recording artiste Jermaine 'Junior Culture' Vassel, who doubles as the producer. Full credits to Rick Astley and Jermaine 'Junior Culture' Vassell.
Author Profile
... qualified & experienced in journalism, creative writing, editing, the arts, art critique, paralegal, photography, teaching, research, event planning, motivational speaking, workshops for children and adults, visual arts etc. Click here for contact form. ...or email me here