Belize artist, Hubert Neal Jr, chronicles the Dudus saga
33-year-old Hubert Neal, an artist from Belize, on his first visit to Jamaica resided downtown seeking inspiration from the culture and beauty of the island. He arrived May 20, coincidentally during the heightening of the Dudus saga.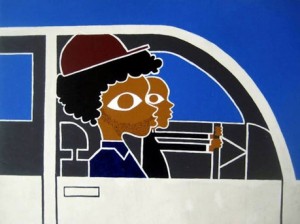 That one man Christopher "Dudus" Coke, aroused tension, voielnce, drama across Jamaica would be more than enough inspiration for any artist. Although putting Neal in an uncomfortable situation, it provided enough inspiration for his body of work now on at Grosvenor Gallery, as at August 21 at 7p.m..
In his own words Neil admits "I didn't know much about the whole Dudus affair until I got here. Of course, you then had the state of emergency and everything."
The violence downtown put a hold on his residency programme at Roktowa on Pechon Street around the corner from Coronation Market and Tivoli, but prompted the artist to work.
Neal along with several Haitian artists working on the 'Trembling Heart' project fell victim to an unlikely studio visit, when three groups of soldiers decided to patrol the old Red Stripe Brewery. From first hand knowledge and experience, he captured the incursions during The Hunt for Dudus.
Capturing the gloom and iconic images that famous 2010 dark period in Jamaica's history, the works are as riveting as the extensive international media coverage garnered. However as an outsider he is simply hoping to capture a moment as he declares "I'm in no position to judge or to tell people who to support. I'm simply hoping to capture the moment. There's a certain detachment that I have. It allows me to be completely objective and focus solely on the subject without applying any bias."
The Dudus Chronicles, an exhibition of Neil's work, opened last night and will run for two weeks at the Grosvenor Galleries in St Andrew.
Author Profile
... qualified & experienced in journalism, creative writing, editing, the arts, art critique, paralegal, photography, teaching, research, event planning, motivational speaking, workshops for children and adults, visual arts etc. Click here for contact form. ...or email me here