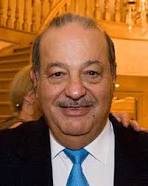 Get rich quick, then richer by the save!
According to Forbes Magazine, Mexican Carlos Slim Helu is worth worth of $60.6 billion, edging Bill Gates out as the richest dude wordwide.
In Jamaica, his telecom giant company Claro battles against another local tycoon Digicel for the number one spot in the hands of Jamaicans.
This however does not affect the net of the billionaire and in a recent interview he shares about habits that makes one and keeps one even richer yet. If nothing changes, experts say he could spend US$1,000 a minute for the next 100 years and nothing will change about his billionaire status.
granted he's one of the world's 1,011 billionaires who's got more money THAN THEY CAN SPEND!
WOW… well lets put our creativity to work and see what habits we can learn from him and others like Jim Walton (of the Wal-Mart clan). You should see the car driven by Ingvar Kamprad – a 10-year-old volvo.
Other habits by our billionaires are:
Keep your home simple: Carlos Slim still lives in his house he bought 40 years ago. Warren Buffett still lives in the five-bedroom house in Omaha that he purchased in 1957 for $31,500.
Use self-powered or public transportation: Caudwell, David Cheriton and Chuck Feeney prefer to walk, bike or use public transportation
Buy your clothes off the rack: Check out David Cheriton, the Stanford professor who matched Google founders Sergey Brin and Larry Page to the venture capitalists at Kleiner, Perkins, Caufield & Byers
Do your own hairdo: "Billionaires like John Caudwell and David Cheriton opt for cutting their own hair at home."
Drive a regular car: Jim Walton (of the Wal-Mart clan) drives a 15-year-old pickup truck.
Forget luxury items: Carlos Slim owns neither a yacht nor a plane
Not all billionaires live frugally. For example, Larry Ellison (co-founder and CEO of Oracle Corporation) enjoy spending millions on cars, boats and planes.
The world's billionaires like Azim Premji, Warren Buffett, John Caudwell and David Cheriton, to name a few, indulge in frugal habits. Even our own Jamaican-version of the rich and famous tycoons like Wayne Chen, Gleaner's Oliver Clarke, have learnt that frugal tendencies work best to keep the pockets lined with gold.
Perhaps this thrifty nature even helped them make some of their money.
So all the best, start clipping away expensive habits today, get creative. You may want to even try…
Fun the natural way instead of lavish spending at nightclubs
High-interest loans beyond your risk status
Avoid name brands in anything, from foods, to shoes on your feet.
Truth is, Jamaicans want to get rich quick, but even at the slowest pace of earning, their spending habits are high and irrationale. time to get creative, and why not if the Matalons, Chens, Clarke family, are living so frugally, so can we.
Jamaicans we are creative, and they say we "likkle, but we tallawah" – let's live up to that!
READ MORE:
Frugal tips from billionaires
Top billionaires worldwide
Author Profile
... qualified & experienced in journalism, creative writing, editing, the arts, art critique, paralegal, photography, teaching, research, event planning, motivational speaking, workshops for children and adults, visual arts etc. Click here for contact form. ...or email me here