Jamaica's culture girl Yendi wows Ms Universe Pageant judges
Back home, many persons had been routing for weeks for Phillips to cop the coveted Ms Universe 2010 crown, being vied for in Las Vegas.
On facebook alone several enthusiasts such as Juliet Moss-Solomon literally used every window to send banners flying about the Jamaican beauty, who also presents herself as one of the prominent culture ambassador. [Click to see that all Jamaican winning smile.]
Since her return from South Africa, which was the beginning of much interaction with Jamaica, Phillips seemed destined, if not predicted to be one at the top of the pageant, IF NOT the winner – at least by the standard of Jamaicans worldwide.
Earlier tonight 24-year-old Phillips did not disappoint. Creating history as the Jamaican candidate with the highest finish in the Miss Universe pageant ever, she copped second place in the 2010 event.
First she made top 15, then top 10, and many sighed. Adrenaline pumped fast again when she then outshone early favourites Miss Puerto Rico and Miss Ireland to place in the top five.
More Jamaicans either glued eyes to their tv screens or plugged radio ends in their ears, until Yendi emerged as the newest culture icon.
From a brilliant group representing the Caribbean, Yendi also outdid herself as the only one achieving the highest overall from that area. Its a good thing for Jamaica, especially after recent challenges and scorn resulting from national disturbances like the Dudus Saga in May.
Of a certainty, Yendi has the challenge to raise the flag and remove at least negative stigma about Jamaica, by promoting our positives. She already has, with the pageant being a high hurdle.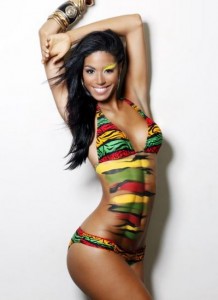 Yendi
Only the 22-year-old creative beauty Miss Mexico Jimena Navarrete could have outshun her, but not by much, nor too far to flutter. If for any reason Miss Mexico cannot continue her reign as Miss Universe 2010, Phillipps, as the first runner-up, will become the Queen of the Universe by principle.
The second runner-up was Miss Australia, Jesinta Campbell; third runner-up, Miss Ukraine, Anna Poslavska; and fourth runner-up, Miss Philippines, Venus Raj.
Miss Australia Jesinta Campbell won the Miss Congeniality Universe award. Miss Thailand Fonthip Watcharatrakul won Miss Photogenic Universe and a second award for having the best national costume.
READ MORE on Miss Universe 2010 pageant
FINAL MOMENTS of Miss Universe 2010
PROFILE on Yendi
Congrats Yendi, our Caribbean Queen of the Universe in 2010
Author Profile
... qualified & experienced in journalism, creative writing, editing, the arts, art critique, paralegal, photography, teaching, research, event planning, motivational speaking, workshops for children and adults, visual arts etc. Click here for contact form. ...or email me here