AHHHH! is what you're sure to say, after winding your way uphill to the gallery bearing that name. It's a trove of glowing artful treasure on the hilly border of Kempshot and Gutters, St James.
The Aaah! gallery is owned by two art extraordinaires artist Ian and Tameka.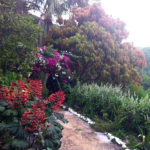 Plotted almost 2,000 feet above sea level, with clouds sometimes sailing through its open windows, is a fairytale treasure trove. It is filled with a wide variety of art and is lodged on the rocky hillside border of Kempshot and Gutters, St James.
Ian 'Ras Natango' Williams, who taught art for a period, is prolific, and pushing him to international success is his wife, who doubles as his accountant. Tamika Williams is an educator in English language and English literature. Since their marriage in 1977, the teaching skills of Tamika have been honed, as she discovers and develops her own skills as an artisan.
self-taught to superb creations
The energies of Ras Natango have been refocused into his self-taught explorations resulting in superb creations in more than one visual form. His philosophy and messages, including 'Emancipate yourself from mental slavery', told differently.
Together, they have already assisted with starting up one school, The Heinz Simonitch school at the Half Moon Hotel, which now has over 100 students enrolled.
For a little more than 20 years, the couple has combined all their skills and expertise into transforming what was once a 60 per cent rocky hillside jungle into a place to just be.
'Just Being as human beings', is another outlook of Ras Natango, who was given the name for his love for the cartoon character, Natango, during his youth.
Within the three-storey building, the calculated variety of displayed works from pencil sketches to oils, placemats, postcards to shellcraft is mostly by the autodidactic Ras Natango. His paintings, which are acrylic, reflect his intense research and self-study of masters such as Michaelangelo, Pablo Picasso, Rembrandt and Claude Monet. His themes are as varied as his successful representations of textures such as sand and water. However, his eye for detail is consistent with his ability to understand perspective in both art and mathematics.
It is easy to understand the fast growing international appreciation for the widely-sought-after artist who has been written on in magazines such as Hemp Times and York Daily, Pennsylyvania.
His works include designs and paintings on hemp-based clothes, wooden sculptures. Some of his themes reflect his own experiences especially the acrylic 'Alone', a man rowing against the tides of a rough sea.
The few representations of Tamika's work as a craftsperson, include her egg shell depictions of a variety of roosters, hens and chickens on hardboard. Indulging in shell craft, knitting and sewing and embroidery, she also makes children's costumes for plays held at her school. However, it is her reversible dolls that are striking. These dolls are like mirror reflections of the same doll, except when put upside down, then, the dolls change pose.
Ras Natango's input to the outdoor decor of the facility is the carvings of Jamaica's wild animals from the cedar tree roots, which are actually seats placed randomly across the garden. Additionally, there are antique items telling tales of Jamaica's history strategically placed throughout the garden such as milk churns, three-legged wrought iron pots, old-time tilly lamps, and actual slave iron chains. In the garden is a sundial.
Visitors will be able to sit anywhere and indulge in the therapeutic offerings by the combined gardens and the view of the surrounding neighbourhoods, with the trees dotted like attentive children across the extended earth.
Together, the couple has written story books for children which are now awaiting publication. At least two of these books teach about Jamaican wild life and animals, and the way they survive. Ras Natango's 'Froggy' is aimed at teaching children between four and six years how to create their own stories by following photographs, although it contains an actual storyline. They do realise the effect of combining art, language and literature especially in the development of children.
Their son, Ayale, a protégé in his own right, recently completed a degree in graphic design at The Art Institute in Florida. The couple remembers introducing him to art through cartoon books from a young age.
greatest teachers
They are his greatest teachers. On display in the home gallery are his sea animals, where he has captured their characteristics exact from his sea shell craft. Also on display are some of his graphic designs and illustrations.
A family of talent, and exceptional skill, the idea of 'tun yuh han mek fashion' is passed through generations as each member finds something productive to do, and then seeks to educate and enhance the lives of others.
You are reading www.antheamcgibbon.com
Author Profile
... qualified & experienced in journalism, creative writing, editing, the arts, art critique, paralegal, photography, teaching, research, event planning, motivational speaking, workshops for children and adults, visual arts etc. Click here for contact form. ...or email me here