'Deadly Instincts' refreshing
BOOK REVIEW: Deadly Instincts
AUTHOR: Racquel Gaston Brown
REVIEWED BY: Deportee
You are faced with a double breakpoint and you are going to lose! Do you honestly think that you have become the person your parents really and truly wanted you to be? The struggle with morality, honesty, law and order hover around and above us and like children we are held hostage to what is perceived as 'right' but we grow into adulthood and still our beliefs and the rule of law be protects us from obscene stuff. The novel Deadly Instincts by Racquel Brown Gaston addresses just that and the following paragraphs, I will give you an insight into what this novel is all about.
I sniffed it out like Tanqueray… or should I say the title of the book 'Deadly Instincts' sniffed me out.
I was about to quietly surrender to the 'unknown', and I looked forward with sweaty anticipation to reading the book.
Darius Kramer, undercover DEA Agent becomes entangled in a web of deceit and lies. His assignment was to infiltrate and dismantle the drug operations of the mysterious drug kingpin Sambino. If it were that simple, then the plot would have been boring but the intrigue, roller coaster twists and turns of interconnecting relationships, lying, cheating adds a bit more spice to the dangers that Agent Kramer inextricably finds himself faced with.
Kramer befriends Michael Walker aka 'Sambino' and he gets close to him by seducing his girlfriend, Diane Webster and also having a relationship with the best friend of Diane. Walker has a hold over Webster as she had asked him to kill her father who had consistently raped her and her sister.
Michael Walker is a police officer, and he uses this as a cover to run a drug empire. He is in partnership with Samurai Blazer and they both form a company called Sambino/Sambino. This masterstroke of an idea makes it seem as if there's only man called Sambino.
If you are looking for a book with more twists and turns than Jamaica's Fern Gully, this is 'Deadly Instincts.' It's end is a shocker..shhhhh! I wont tell!
The book is a Blue movie – what I am referring to is not sex! In reading the book, one comes to terms with various themes as greed, revenge, fear and love – all of which interlocks and overlaps with nuanced meanings. Flipping the pages reminds one of movie scenes with a well painted story line.
It is a good read, not long in length, and it is called 'Deadly Instincts.'
Everyone gets the concept of the greed of humans and the fact that only an outsider can help natives. Hmmm, good point. Anyways, yesterday I was dirty and today, I am dirtier and this will get messier as I try to add my two bit to this over-hyped movie.
To defeat evil, one has to become evil. Darius Kramer, an honest man has many scenarios played out before him. Yes, we can speculate all we want but the true essence of the book will pass us by if you think for one moment that a wave of the hand will destroy evil and make us live harmoniously with nature. If you want to feel the moral tempo, then by all means, make your melanin boil!
When man distorts beauty – what is there to be seen and held – it is difficult to wake him from his slumber. In 'Deadly Instincts', beautiful is ugly, lies are truths and all around you is spirit called fear, and everyone plays the part of this 'deity' in the cloak and dagger affair.
If all things in nature has a spirit which relatively is referred to as good and bad, then people reading this will breathe in through their oxygen masks. They will see parallels in their daily lives and conquest, yet missing the seminal themes the book tries to make which is "to thine self be true" in the dealings with people.
If you love worshipping two bags of silicone and sensuality/sexuality, then 'Deadly Instinct' moistens the bed sheets of the mind.
The sex is not manipulated/drawn out by advertising images but discussed passionately on the respective pages. It stirs beneath the surface and bubbles to the top without being tacky. The author most certainly knows her stuff.
Fiction today is sometimes bland to the mind as is fry chicken to the belly. However, 'Deadly Instincts' is a sterling novel against the backdrop of modern reality. There is no curtain blinding us to the intimate psyche of the characters. Unlike other novels where there is a jaundiced presentation of gory facts, this novel wines and dines us, seducing us with the wine of subtlety.
The opening chapters piques one's curiosity as the escalator of succulent and beautiful imagery takes one on a ride which flows east to west. The air of mystique sniffs itself out and portends itself to the orgasmic delights interspersed among the characters.
It is quite refreshing.
Lies, lies and more lies. Actually I like liars. I admire their petty attempt at concealment. It's fun knowing when someone is lying as they try to make you believe. It is really a Ripley's Believe it or Not. Racquel Brown Gaston's characters share the hydra-headed 'virtues' of liars and passive/aggressive manipulators.
With her words, one understands the circumstances for lies and treachery and feels the necessity of the characters to act without compunction in protecting their lives as well as loved ones.
Intelligible statements, slanting angles, loud silence greet us like a whiff of frigid air rising from a cold front and when inhaled, the incense like incantations of the characters' thoughts and actions makes for a warm glee as we try to interpret and untangle the conspiratorial web being weaved.
Life throws people curve balls and life it is said imitates art. The protagonist Darius Kramer is an agent of the law and he is a well written metaphor to say just like in the real world, everyone must be held accountable!
I see a little lime in this sugar and water mix, and that touch of sour certainly adds a wee bit of flavour.
It has been said that news is really a situation where there's no news, but unlike news, storytelling is a hypnotic art if one nails it properly and this book most certainly does that. The half of it has and never will be told. The rumour mongering will grow legs and it's lies will scream like a crib of lies.
'Deadly Instinct' is a book among books. It's a book dealing the scar tissue of drugs. And like it or not, we are being ruled by the spectre of drugs and the crime and violence which are conjoined to it! Whatever side they are from, one sees the meaning of the book and I have to tell you that I am hooked!
SPECIAL POINTS:
AUTHOR: Racquel Brown Gaston
PUBLISHER: RBG Publishing
COPYRIGHT: Racquel Brown Gaston, 2009
ISBN -13: 978-0-9825735-0-1
ISBN-10: 0-9825735-0-2
LAUNCH OF BOOK AT JAMAICAN CONSULATE IN NEW YORK

_____________________________________________________________________________-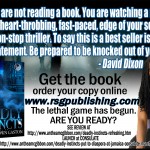 Author Profile
I specialise in media and communications. I have also done subediting, pagination, feature writing. I believe in Jamaica's true gems - our people, skills, culture and more that makes us unique among the world's finest. I graduated from the University of the West Indies. Here are my thoughts. Enjoy, share! Link me here or or here