Over 100 guests packed the designated area to witness two magicians casting spells at each other. There were no spells however, as true love was in the air when renowned magician Kemarch Dodd and Dana Lipscombe willingly became one twain in a marriage ceremony convened by President Patrick Medley and Elder Green.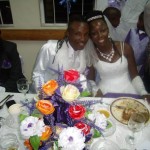 The ceremony and reception took place at the Church of the Latter Day Saints in Kingston.
The ceremony was brief, but after a few hours waiting, the reception, well planned went well upstairs the building. Pretty Boy Floyd kept the guests releasing bellyfuls of laughter some brought to tears. He was punchy and bubbly despite the recent passing of his mother on New Yer's Eve. His turn to be choked up came when Dana showed open emotion in a toast to both her natural and adopted mothers.
The evening's entertainment were from among the best of the nation's natural unsung stars who quietly sine when given a chance. Among the entertainers holding the audience spellbound were Bwaaayus the 'Contershanist' who came in from Montego Bay. A silvery rendition of Kenny G's music was offered by Bujay the saxophone.
Skelesha the puppet master and Freshest from New Star karaoke. 'Essence' accompanied by Dana's father Hopeton Lipscombe became a memorable duet.
FOR SPEECH/TOAST BY ANTHEA McGIBBON Anthea McGibbon toasts to Magician
Author Profile
... qualified & experienced in journalism, creative writing, editing, the arts, art critique, paralegal, photography, teaching, research, event planning, motivational speaking, workshops for children and adults, visual arts etc. Click here for contact form. ...or email me here