The Ministry of Education for over a year now has been ensuring that the ARTS is being aggressively incorporated into their national school curriculum (NSC) and plans. The concept of STEM is being improved to include the Arts as a driver to learning all subjects generally, hence STEAM.
Last week, on October 13, 14 and this week on October 20, 21, almost 150 primary school teachers have been undergoing training on adapting to the NSC. The training sessions were hosted at Saint George's College, by senior education officers employed to and representing the Ministry of Education. Of course, on a normal day to day basis, these individuals are responsible for creating and improving the curriculum.
Yesterday, October 21st, 2016 was the final day.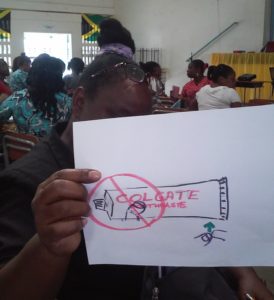 Anthea McGibbon attended on behalf the OAaSIS International Foundation, after classes were initiated at Allman Town Primary in partnership with the school's principal, Mrs Kandi-Lee Crooks-Smith. The partnership is a part of the initiative towards solving major problems of limited staffing by said Mrs Crooks-Smith.
Both Education officers and privately contracted presenters kept the teachers engaged.
During the period the Arts which are the latest addition to the integrated agenda – STEM to become STEAM were the better appreciated workshops.
ITS no longer about last century's hype over science or technology, nor adding art, showing mastery, but STEAM promotes innovation, a wholistic approach to honing student skill, by project-based strategies in creativity, design thinking, tech literacy, collaboration, explorations, problem solving etc..
The teachers were officially trained to access the portal, and taken through several curricula. The workshop on actually creating a lesson plan for each subject proved most useful. This workshop was interestingly conducted by Lorraine Thompson Stewart Senior, Education Officer (Visual Arts).
At the end of the sessions teachers would have better understood as the main objectives – how the national standards curriculum works, especially in replacing the old curriculum set. Teachers became better acquainted with designing a lesson plan using the 5E plan incorporating the 4Cs. At the same time applying the concept of the STEAM in all their dealings. STEAM being Science, Technology, Engineering, Art and Mathematics.
Project based
With STEAM, the teaching is far more project based, giving more room to students to learn through interaction, critical thinking and research. Thus an understanding of art as a critical skill aside from adding aesthetic value.
The introduction of the Arts, and not just the Visual Arts now sets the pace for Jamaica's children and those who teach them to better understand the potential and individual strengths of the children from as early as the primary level and in some instances, before.
As students therefore move into the 3-dimensional way of thinking, they are guided in linking subject areas together through common denominators such as strands, attainment targets, objectives. Thus developing the knack for being innovative and competitive on the global hi tech market, given the global economic climate.
More on STEM versus STEAM
Author Profile
... qualified & experienced in journalism, creative writing, editing, the arts, art critique, paralegal, photography, teaching, research, event planning, motivational speaking, workshops for children and adults, visual arts etc. Click here for contact form. ...or email me here