The dynamic Jamaican artist Lennox Coke is back enhancing the suite life of visitors at the Wyndham New Kingston hotel. It's his second time enjoying the Suite life at the Wyndham, his first being in February 2007. Then his exhibition was about 'Celebrating Ten Years.' [See article on A 'SUITE' life for artists
Coke did not start his art career in a conventional way. He first basking in Jamaica media limelight was in 2006, when he first exhibited at the annual Mandeville Art and Craft fair. His work 'Jamaican Market' was the most expensive piece fetching a price of $780,000, while he was an intuitive.


His work is improved and developed. Still the crispy effect of his works from then is still existing as his signature style, but presenting more refreshing in his subjects. As priority this current show at the Hilton features the upcoming 50th Anniversary of Jamaica as a country, for which celebrations islandwide have already begun.
There are approximately 30 works on display in the main lobby area of the Wyndham New Kingston hotel. They are all original, but on varied material types. What's new is his burlap series on which he paints mostly flowers seen only in Jamaica so far.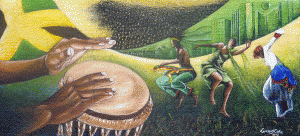 His celebrating Jamaica 50th series are highlighted with a piece where dancers revel the night away to the beats of a hand beaten drum against the background of the Jamaican flag. Images of Kingston, the major city of Jamaica and athletes are superimposed into the colours of the flag almost creating an illusion, yet demonstrating the pride and resilience of a Jamaican people in their accomplishments.
CELEBRATING JAMAICA
That work titled "Celebrating Jamaica 50th' is festive and a welcome collectible.
Other works to complete the package offered on Jamaica include lifestyle images. As usual Coke demonstrates superb skill in painting Jamaican people especially in their busiest environment. So from the days of painting his popular and largely collected market scenes, he now indulges in street sellers.
'Jellyman' is an eyecatcher. Coke then eases back to add a few pieces on peaceful country life such as in 'Country Pride' and 'Savour' In savour, a young boy stops on a dirt pathway to enjoy a Jamaican fruit to the last and the cool breeze of the countryside, while watching passerbys It makes you want to just take a drive to the countryside.
Only one painting sways from Coke's general style, where in the boy seems to be out of perspective with limbs a bit too big for his body size.
The works range from US$500 and there are pieces ready for traveling by hand.
The show is not disappointing and is well executed. Kudos to the Wyndham for their continued effort to support talent in Jamaica.
USEFUL LINKS:
Ja-Mecca – Old and young masters display quality art
Lennox Coke Art – A crisp Refresher
Author Profile
... qualified & experienced in journalism, creative writing, editing, the arts, art critique, paralegal, photography, teaching, research, event planning, motivational speaking, workshops for children and adults, visual arts etc. Click here for contact form. ...or email me here