Rebel Salute, now in it's 24th year in 2017, can be described as a fetish- a must have addiction on the calendar for Reggae music lovers.
The visual, auditory senses were in a high – no pun intended- state as one could feel, touch, taste and smell the reggae vibes on the hosting grounds of Rebel Salute 2017 in Prairie, Saint Ann.
Happy EXPERIENCE
Take a moment and recall a happy experience. It could be owning your first car, your home, graduating from college, your first job, the birth of a baby or your third sexual experience.
What was the first thought which entered your head? Was it the sight of your parents beaming at your degree, colour of your car feeling of unbridled joy, peacock pride.
The visual, kinetic and auditory representation system of the brain spurred into overdrive to manifest such feelings. Rebel Salute 2017 was off to a perfect start.
Friday the 13th provided luck to the patrons as some formidable acts demonstrated their musical skills and stagecraft.
Sister Nancy was the mumma who tended to her flock.
Attired in lovely black dress with embroidered tail bearing the colours of the Rastafarian movement- red, green and black-, she looked like a beautiful swallowtail bird.
With her Rapunzel locks tipped by gleaming white beads gleaming beneath the lights, she was a picture of refulgence.
Paying homage to Tenor Saw with *Golden Hen', rolling her tongue like how Sister Nancy knows.
'Ain't No Stopping Nancy 'and 'Bam Bam' showed no dust on these 1982 classic hits. This woman certainly troubled us with her sonorous voice. Crispy biscuit! A Bam Bam performance! Over 20 years since her last performance in Jamaica but it was as if she had never left.
LOVE BUMP AT 2017 REBEL SALUTE
The Lone Ranger stepped onstage without his Tonto but he never needed one. 'Love Bump' and 'Rosemarie' pressed the pedal to the metal as Rebel Salute 2017 gathered momentum.
General Trees is always as relevant like Christmas began his set with the humourous 'Eye No See' a creatively humorous tale about the eating of donkey meat. The shoemaker began building his shoe…Cutting leather as he created his boot.
'Bible and Key' The Bible and the Key would show up a lie if there were ever a doubt about his performance.
'Mosquito Invasion' No destroyer could stop Trees as he buzzed on the stage.
'Mini Bus' had all the passengers singing on their way to Negril!
The gruff voiced DJ conducted a masterful performance. Postcard for years!!
Tony Rebel was vegetable fresh and Romeo Tony had the Juliets eating out of his hands. It was no 'Political Act' as he sung ' Nazarene Vow' and asking the crowd to Help Me Big Up Jamaica by belting out 'Sweet Jamaica.'
The continuing but subtle discrimination against people with dreads is something which should be rid of in Jamaica. It may not be as overtly violent as years gone by when agents of the state used to falsely imprison and cut the locks of Rastafarians. This ink blot stain will remain with us and to those who still harbour a bias against dreads, Rebel Tony's song 'My Dread' hopes to be a succour to those who thinks lowly of dreads and want to move away from that gangrenous way of thought.
Tony Rebel's concept is now grown and he'll continue to 'Teach The Children' which means the society to make a change.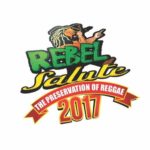 Like Cinderella and her silver slipper, Minster Marion Hall blessed the house with spiritual intensity as she jumped for Jesus.
Thirsty for God sating the appreciative captivated audience.
Hands beating the syncopated rhythms. A victim of rape. Dedicating a song about rape and domestic abuse 'I've Been A Victim.'
With the Minister in full sermon mode administering her lyrical gospel, a heckler shouted ""Fireball! Burn Jesus!" which triggered embarrassing snickers.
Minister Marion Hall had heard the heckler
'I'll Pay You Back' brought handclaps of applause as she chastised the heckler for saying that.
The Holy Spirit took control of a lady who was so overwhelmed with trembling emotions as Minister Marion Hall pulled the crowd closer with her scintillating sermon.
The psychosis created an oasis in the desert of the real. Hallelujah!
'Room In My House.' She was 'Anointed' as she reserved a room for Jesus. Unperturbed, Minister Hall sung 'All For Jesus' and I Will Not Worry'
It was metamorphic, a butterfly manifesting from the caterpillar secular persona of Lady Saw. Cathartic experience. A simply transformative performance!
THE ABYSSINIANS have always been a musical group which I had hardly ever listened to. There is something so reverent about their music that one has to listen to the lyrics to really appreciate them.
'Satamasagana' opened my consciousness and I was in awe of the opening verse.
"There is a land, far far away
Where there's no night, there's only day
Look into the book of life, and you will see
That there's a land, far far away
That there's a land, far far away"
Over 45 years in the business, The Abysssians with their tight close harmonies began with 'Declaration of Rights' then smoothly moved on to
'This Land Is For Everyone.
Bernard Collins, the grandfatherly looking lead singer, his snow white beard, gleaming under the lights was professorial in his musical tribute for unity and harmony- hallmark credo of the Rastafarian faith. Satamasagana forever!
A virtuous and regal set by Warrior King. Introducing his pregnant wife to the appreciative crowd, Warrior King in a naked show of exhibition, proceeded to do push-ups as a testament to his fitness and love for his empress.
Coffee to rouse the weary.. providing the morning nicotine rush adrenaline as he hopped on his Joy Ride and he most certainly No(t) Holding Back.
Half of a pint, equals to 8 fluid ounces (1 cup)or 16 tablespoons. Half Pint refers to a very short person. Half Pint is Lindon Roberts, the maestro who gave us 'Winsome' in the mid 1980s.
He may be short, but Half Pint, loomed large and he was akin to a vanilla smoothie as he creamed the night, blew the night's dawn away and and welcomed daylight as he unleashed the full repertoire of his classic songs…
'Mr Landlord, 'Victory','Suzie"Level The Vibes', 'Political Fiction' 'One Big Family' and 'Run Come' were all devoured by the thirsty.
Biggest send off for the night was for this legend. His was that of an 'unmissable' virtuoso performance.
The fun had just begun when the irrepressible, portly Fantan Mojah
appeared without his backpack unleashing 'Corruption.'
A Jacob Miller lookalike with his bouncy highstepping dances, adorned all in white looking like a musical Abominable Snowman, Fantan Mojah, was the perennial hype man in tights!
' Only Jah Love' warmed up the cockles of the heart on a windy and chilly night.
Tarrus and Fantan in a double play, song for song.
Tarrus' pithy performance left mouths gaping in awe as he vented about some incident backstage. It's alleged that he arrived late and he and Anthony B – who closed the show- had somewhat of a less than friendly altercation backstage.
'Most High Jah Deliver Me'
*I see love walking in front of me*
'Nothing At All'
That brought audible murmurs and bewildered looks on the faces of patrons as many had come to see Tarrus. That was a downer for many and it brings into perspective the heated personal rivalry which exists in Jamaican music which shamefacedly exposes itself on a live and public stage show.
If it weren't for Fantan's champagne performance, which balanced the see saw moment only for him to notch it to a higher level, it would have taken a lot to get the show back on to its smooth flow.
In agreeing with Mutabaruka, I Wayne's a poet but doesn't know it or does he? Possessing a detailed understanding of social matters which he uses as his schtick in-between songs. That's a gift which few possess. 'Lava Ground' breathed a fire of righteousness which was there for all to see.
I Wayne attacked the social issues surrounding immorality with catchy and witty a capella commentary in between his songs.
The opened the 'Book Of Life' and turned the pages, offering positive messages. Rastafarian musicians usually live my a strict moral code which germinates into the subconscious and 'Life Seeds' did just that.
'Can't Satisfy Her' proved to be the chocolate to sate the hungry musical palate and he was in the end, a master storyteller in his fine set.
The 'Good Cop, Bad Cop' DJ made sure that 'One Thing' was clear was that he was here on stage to perform and not to fall in a state of garrelous backchat with the backstage spat with Tarrus.
Anthony B's energy fueled stint rolled back the years to when we first heard and saw him with Kette Drum.
He 'Raid(ed)De Barn' and was equally 'Heartless' as he closed the show with blessings from the rising morning sun and an equally appreciative crowd which stood riveted to his long overdue performance on a reggae show in Jamaica.
As the first night of Rebel Salute came to and end, the melodic but haunting lyrics of The Abysssians' song, 'Satamasagana' kept pumping in my head.
"There is a land, far far away
Where there's no night, there's only day
Look into the book of life, and you will see!
Author Profile
I specialise in media and communications. I have also done subediting, pagination, feature writing. I believe in Jamaica's true gems - our people, skills, culture and more that makes us unique among the world's finest. I graduated from the University of the West Indies. Here are my thoughts. Enjoy, share! Link me here or or here