I could NEVER eat ackees in any form when growing up. No matter how it was prepared, and Lord knows I have had lots of exposure to some great chefs. So now donkey years later I am truley into it.
I just asked myself how any Jamaican could not even appreciate Jamaica's national dish and started experimenting based on my knowledge of flavours.
Besides I am a SUCKER for all that's Jamaican.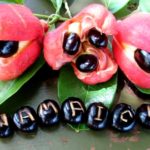 I will post a basic recipe for ackee and saltfish. BUT let me tell you the list of substitutes for the saltfish. Actually some of these can either substitute or be added to the dish.
Shrimp, Corned Pork, Pumpkin, Sweet potato, Beef, Mackerel, Ochro
Ingredients
Serves 2-4
½-pound salt fish
fresh ackee soaked, or tinned ackee
1 medium onion, chopped
1 small sweet pepper (yellow/red or green), julienned
1 medium tomato, chopped
2 cloves of garlic, minced
1 teaspoon scotch bonnet pepper, chopped finely (omit if you don't want the dish spicy)
2 stalks scallion, chopped
1-2 tablespoons extra virgin olive oil
salt and pepper to taste
Directions
a. Soak the saltfish in cold water for about 1 hour.
b. Pour off water and then place the saltfish in a pot of fresh water and boil until tender.
c. Throw off the boiling water and run cold water on the saltfish just before you De-bone and flake the saltfish.
d. Bring oil in your frying pan to a high temperature. Test to see if the oil pops with a small sprinkle of water from fingertips.
e. Sauté onion, garlic, scallions, tomatoes, scotch bonnet pepper and sweet pepper until tender, about five to six minutes.
f. Add flaked saltfish and toss for a bit.
g. Add ackees – fresh or canned ackee
h. Add a pinch of black pepper.
i. Toss lightly; cover and allow to simmer over low heat for about 2 minutes.
Garnish with shapes of ochro, pumpkin
…………………………………………………..
EDITOR'S NOTES:
Check out unique recipes on this site. No flour, no fat.
Get Jamaica Chef to cook for you by calling 530-5744
Author Profile
I am delighted to serve you. I have been a chef for over 10 years and I have worked in the finest of Jamaica's restaurants. I now teach cooking privately, as well as do private catering. I also take orders for items such as hams. I am going green in support of the green gold of Jamaica. Look out for my special smoothies coming soon. Meantime appease your appetite here. Click here to contact me. ...or email me here