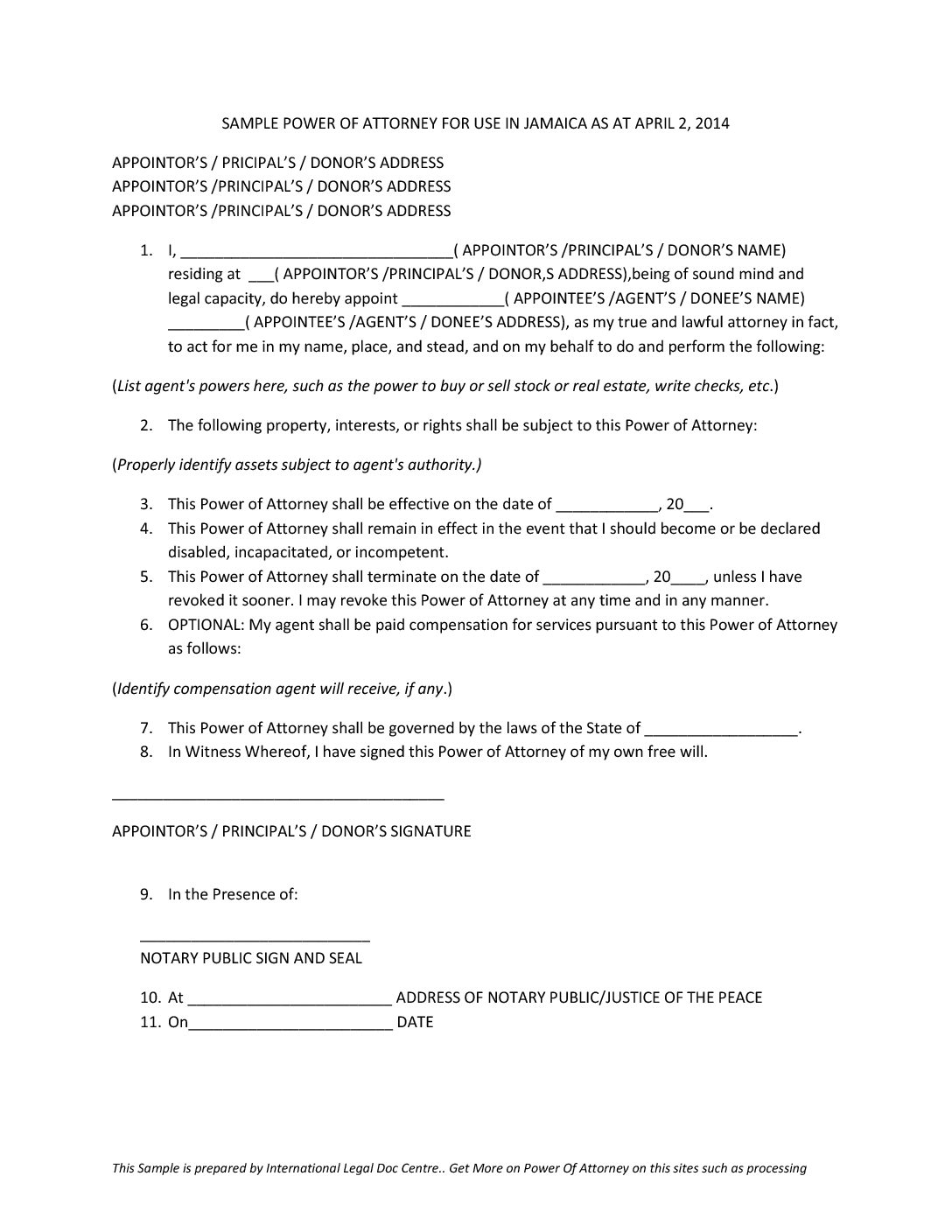 Example of Power of Attorney document to use in Jamaica
QUESTION: Dear Legal Wiz,
I need to do up a power of attorney document to have my cousin go to Court for me in Jamaica. What information do I need to include in it?
Michael Elliot
RESPONSE: Dear Michael,
Below you will find a general list. Power of attorney documents vary according to the needs of the appointor and the institution where it will be used. Some institution for example the Land Agency already have their own format and / or a prescribed form.
Therefore, the following list gives a general idea and afterwards you will need to carry out procedures to make the document legal here in Jamaica. This list is at August 16, 2017:
Address of Appointor
Date of Execution
Appointee's name and address
Full description of car eg. Model, year engine number, chassie number, license number (if it involves a motor vehicle)
Appointor's signature
JP or notary public signature and seal
Notary public certificate must accompany the document (If notary is overseas in USA, or non commonwealth country)
The words "While on a visit to Jamaica" must be entered by the Justice of the Peace(JP) (IF the address of the appointor is overseas)
IF a local address is entered but a notary signs the document, then the overseas address must be entered
Proof of stamp duty payment must be evident. Stamp duty is paid at 111 Harbour Street, Kingston
All documents for stamp duty or registration MUST be original and bearing original signature
Specific powers or duties should be outlined once a general power of attorney is not being given
NOTE: Local documents expires after three months, Overseas documents expires after one year
What follows next!
More on registering documents can be fond on the website of Registrar General Department HERE
USEFUL LINKS
Exciting and informative Jamaica government website
Please note that there is a sample power of attorney on this site. SAMPLE of Power of Attorney document, not necessarily in this format however.
More on Power of Attorney in Jamaica on this site. What Jamaicans should know about power of attorney
Legal Wiz
______________________________________
EDITOR'S DISCLAIMER:
The above does not constitute legal advice, but are articles by inhouse senior journalists after research and discussion with attorneys-at-law and other specialists. Names are sometimes changed by request of the clients.
FOR PHYSICAL ASSISTANCE: please contact Legal Wiz Team:
For physical work and other needed legal assistance in Jamaica, (including follow ups, collections, agents, research, form full out, wills etc) not requiring the full services of an attorney-at-law, call 876-530-5744 or 305-648-6963 or write to legalwizwork@yahoo.com to make arrangements beyond the commitment of this mediahouse, or visit Suite # 1, 3 South Avenue, Swallowfield, Kingston 5, Jamaica West Indies. NB: Fee conditions may apply!
Author Profile
... a team of professional experts, mostly Jamaicans, from varied fields including as priority paralegal, investigation, research, real estate, construction, arts (literary, visual, performing, culinary) and entertainment, certified Attorneys (civil and criminal law). Information is researched, then published, on this site, in the interest of the wider public.
Link me here
***
Click here for more about us